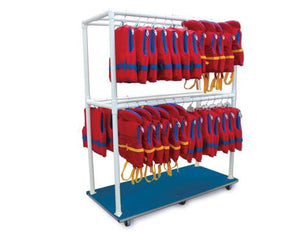 Vest storage cart, redesigned to offer a larger storage capacity as well as an increased stability. It is ideal for keeping vests in order. This PVC storage unit allows you to hang your vests, allowing them to dry properly while keeping your storage room neat and clean.
Now equipped with 6 crossbars for more hanging options, the vest storage cart can fit approximately 60-70 vests. Equipped with a high-density plastic base and non-marking swivel castors, this unit is durable and easy to maneuver. Swim equipment and hangers are not included.
Dimensions: 64" l x 30" w x 75.5" h.