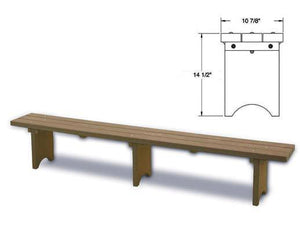 Entirely crafted from recycled materials, with stainless steel hardware, this plastic bench is both solid and durable; in fact, it's almost indestructible! Its durability makes it a perfect choice for the pool deck or the change rooms.
At 10 7/8" wide x 14 1/2" high, it is not as wide, nor as high as our Wide Plastic Bench however it can accommodate adults, but it was initially designed specifically for young children. Some assembly is required. This product comes with a 10-year warranty.
Available only in lengths indicated, no custom lengths available.