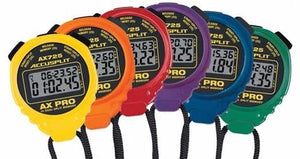 AX725 AX Pro Memory Series Stopwatches are professional timing devices. The AX725 has Exclusive "AOS" 4.5 Operating System with Twin Left-Right button operation feature, designed to give coaches, athletes, and timers the most precise timing available.
All AX Pro Series Stopwatches are cased in ergonomic designed "X" Extra Performance Case.Features:
AOS 4.5 Operating System

16 Dual Split Memory
Dual Split (Lap and CUM)
Twin Button Operation
1 - Button Rapid Split and Reset
Split Counter
1,2 Fast Finish
Timing Range 10 hours
Event Timing (Start/Stop not Time Out)
Dual liquid crystal display
5 year battery life
Water Resistant
Shock Resistant
Fail-Safe Reset
Packages include six multi-colored AX PRO Memory Series Stopwatches (Blue, Red, Yellow, Green, Orange & Purple) complete with Lanyard, Battery, and Instructions.