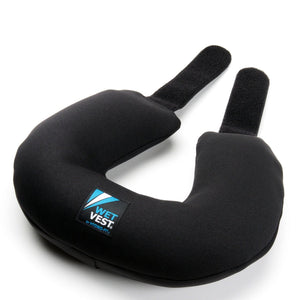 WET VEST® Therapy Collars provide comfortable and secure flotation to safely support the head and neck when the body is in horizontal and vertical positions. Collars feature adjustable Velcro-like straps for fitting around the neck and attaching to the WET VEST II flotation vest.
The high quality 100% polyester cover is soft to the touch and durable against wear and fading in chemically treated pool water. The Air Collar features an inflatable air bladder.
Excellent for use in Bad Ragaz and for patients with head trauma and spinal cord injury. For every Collar purchased, a FREE replacement Air Bladder is included!
Proudly Made In the USA.